Firming Skin Care by AgelessFx
Lift & Firm for face & neck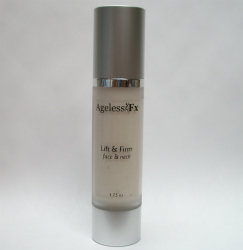 Firming skin care just got a little easier when Lift & Firm is used with our World's Best Moisturizing Serum - you won't believe the difference

Lift & Firm for face & neck

1.75 oz.. ... $69

This should be a staple in your anti-aging arsenal. If you're over age 30, a cleanser, moisturizer and Lift & Firm are the minimum tools in your anti-aging toolkit. Over age 35? Time to consider EyeFx Gel and other treatments.

And guys, read the above statement very carefully. They may not come out and say it - but your significant other is wishing you'd begin your own similar treatment, too!

Lift & Firm is for Spa Use or may be used at home to reduce wrinkles and tighten sagging skin. Also may be used between Botox injections to prolong time between those painful shots
Contains Peptides, a breakthrough new technology in anti-aging
Our amazing Lift & Firm ingredients include peptides to boost collagen production. Natural Vitamin E, proteins, and oils used in treating skin disorders such as acne, swelling, wrinkles, inflammations and antioxidants, and
AH-8 - used to treat wrinkles and firming skin care like botulinum neurotoxin BONT - but is a cream instead of those painful injections
Sunflower oil to combat skin disorders
Glycol as a humectant to draw moisture into the skin

We round out our ingredients with Aloe and Coconut oil to heal, moisturize and delay wrinkles and sagging of the skin
Tip: Dockworkers use Lift & Firm to relieve the dry cracked skin from their hands. Cardboard boxes draw away oil and moisture from their skin, leaving them chapped and cracked. Apply Lift & Firm, let absorb. Then apply World's Best Moisturizing Serum on top - we're told, nothing works better!


Use:
Smooth on face and neck each morning and evening

Precautions:
For external use only. Avoid direct contact with eyes and rinse with water if direct contact occurs

Ingredients:
Deionized Water, Acetyl Hexapeptide-8, Butylene Glycol, Isopropyl Palmitate, Sunflower (Helianthus Annuus) Oil, Cetearyl Alcohol, Glycerin, Dipeptide Diaminobutyroyl Benzylamide Diacetate, Beeswax, Glyceryl Stearate, Aloe Barbadensis Leaf Juice, Coconut (Cocos Nucifera) Oil, Stearyl Alcohol, Phenoxyethanol, Cetyl Alcohol, MSM, Green (Camellia Sinensis) Tea Extract, Licorice (Glycyrrhiza Glabra) Extract, Sodium Hyaluronate, Tetrahexyldecyl Ascorbate, Tocopheryl Acetate, Potassium Sorbate, Arnica Oil, Lavender (Lavandula Officinalis) Oil, Lemongrass (Cymbopogon Citratus) Oil, Retinyl Palmitate, Cholecalciferol

---
Leave our Firming Skin Care page on Lift & Firm and go to our AgelessFx Product Page (Online Store)
Leave This Page and go to our AgelessFx Anti-Aging Products Homepage