Why An Anti Aging Eye Cream?
Because You've Got That Look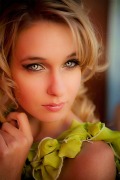 It's what most people notice after your smile. And that's why Anti Aging Eye Creams have become so important. Those fine lines that you notice in the morning, the puffiness, redness, swollen (Oh wait, not after THAT night), well, you get what I mean. We all want beautiful eyes. We notice them on others.
The thinness and sensitivity of the skin around our eyes have led us to neglect this important part of our body for years. It's usually the fine lines around our eyes that we notice first.
And now, we've got to do something about it!
What Should You Do First?
Go out and get sunglasses! I'm not kidding. Sun, wind, squinting your eyes... these are why you have those fine lines. Use sunscreen and Get Sunglasses! If you are working the graveyard shift and you come home and plop down into bed, cut it out! Taking off that makeup is the best way to avoid an eye disaster. You know you've been guilty of that, I know it too. Now that I'm finished with that... eat your veggies and continue reading on...
Before we get to the part about what to look for in a great eye cream, you should have completed the basics of your anti aging system (cleanse, moisturize, treat - yes this is part of treating your skin). If you didn't read it, CLICK HERE to see the basics of good anti aging systems

What To Look For in an
Anti Aging Eye Cream
Here it is. The wish list of eye care that allows the neglected skin around your eyes to repair and refresh.


Has a Humectant - like Glycerin to attract moisture to your skin
Antioxidants - protects from free radicals (environmental and oxidative damage)
High in Peptides - enhance elasticity, smoothness, and minimizes puffy eye-bags
Fruit Extract - to tone, keep skin soft, cool, diminishes puffiness
Eyebright - toner and softens skin
and rich in Vitamin C
Our Best Anti Aging Eye Cream:
Vitamin C Eye Gel
It does all the above and more. Our improved Vitamin C Eye Gel is formulated with anti aging and skin brightening ingredients to combat puffiness, sagging skin, stubborn under the eye circles, wrinkles and crow's feet. The formula is oil free, and helps soothe and refresh the look around your eyes. So give us your sultry looking best!